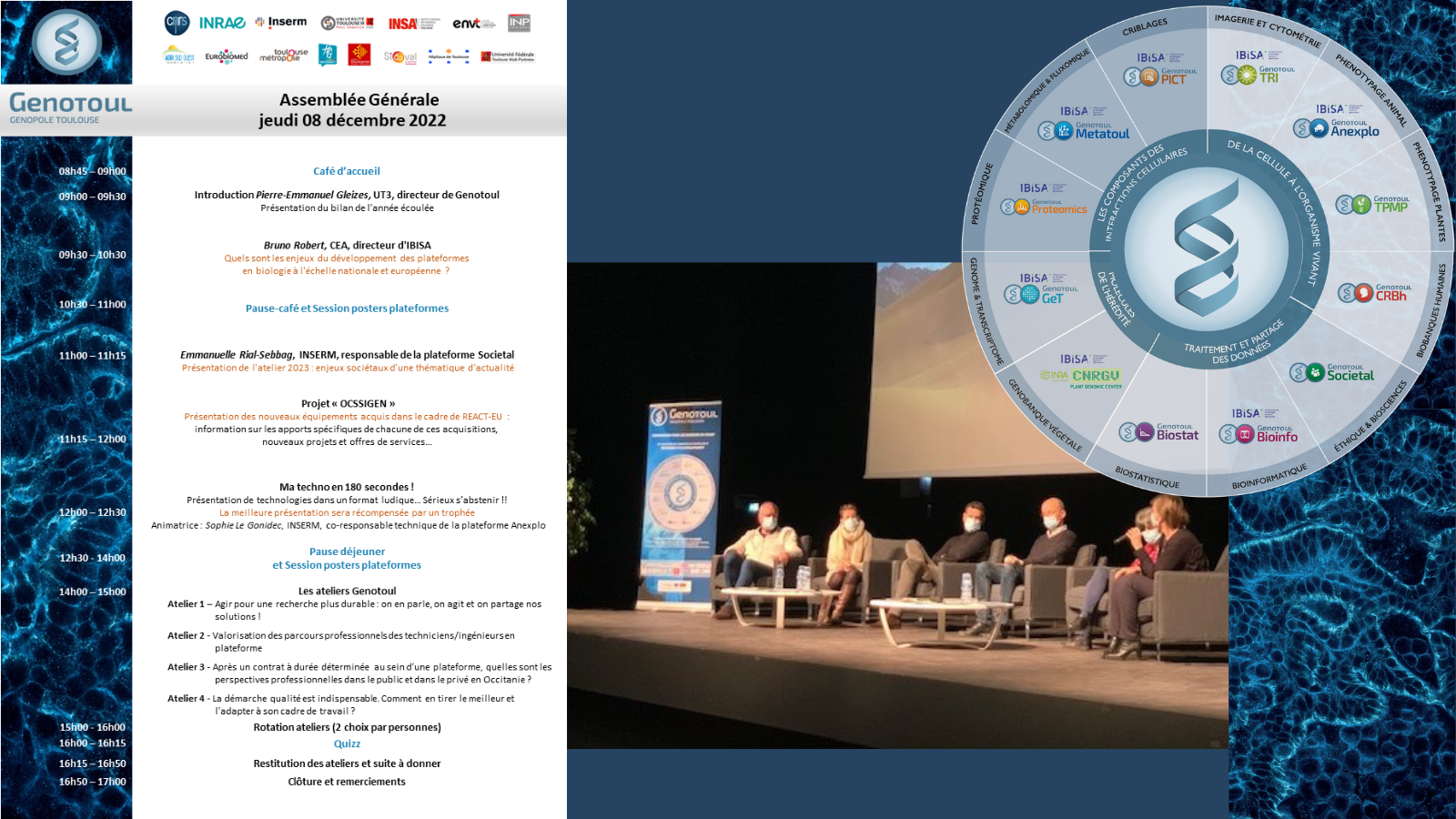 The draft program is available …
Genotoul 2022 General Assembly

Thursday 8th of december 2022 from 8:30 am
 Marthe Condat Auditorium
University of Toulouse III – Paul Sabatier
Ground floor, central administrative building

118 route de Narbonne, 31062 Toulouse Cédex 9.

Remember that the General Assembly is open to all Genotoul actors and we are expecting many of you.
This day is an opportunity to attend various technological and scientific presentations that highlight the current topics of the year 2021/2022.
It is also an opportunity to exchange ideas and debate on the subjects you wish to tackle, thanks to the afternoon workshops.
Don't forget, of course, the convivial moments with the buffet to share, the poster sessions, the quizz           !
SPEAKERS
– Bruno Robert, CEA, Director of IBISA
– Emmanuelle Rial-Sebbag, INSERM, head of the Societal platform
– platform managers benefiting from new equipment in the framework of the Genotoul OCSSIGEN/REACT-EU project.



POSTER SESSIONS
You can take advantage of the coffee and lunch breaks to stroll through the Marthe Condat Auditorium to discover the posters of the different platforms and exchange with their authors.
MY TECHNO IN 180 seconds!
Presentation of technologies in a playful format… not to be missed!
The best presentation will be rewarded with a trophy.
⏱To apply, contact Sophie Le Gonidec sophie.le-gonidec[@]inserm.fr; copy to christelle.gerardin[@]inrae.fr. You have until November 18 to do so.
WORKSHOPS
Workshops are dedicated to the staff of the platforms in order to encourage exchanges on the themes proposed in the program below. Everyone will have the opportunity to participate in 2 workshops out of the 4 proposed after the lunch break.
✅ Confirm your participation, until November 26 (mandatory and free)