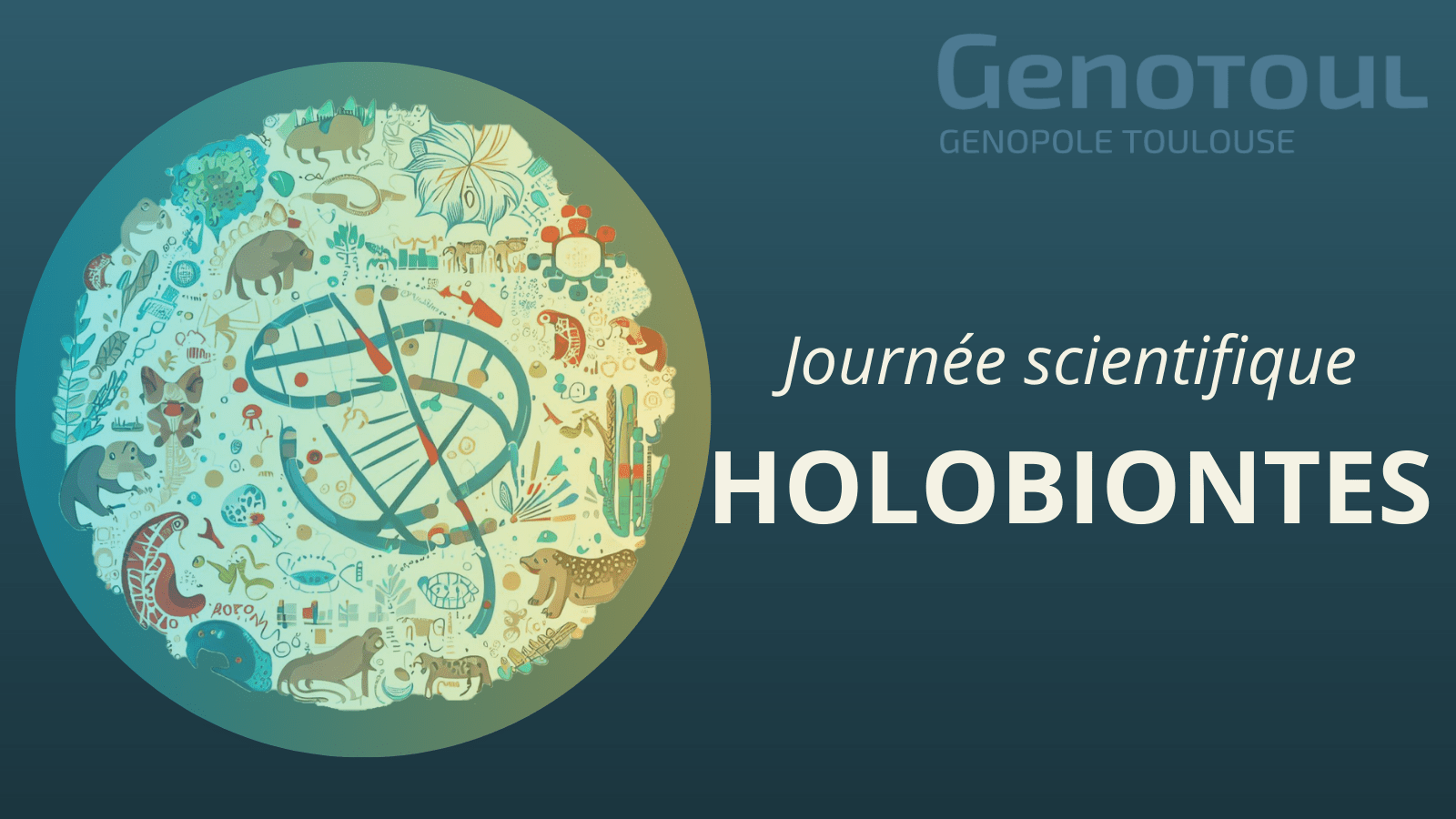 Genotoul Scientific Day on 9 November 2023
HOLOBIONTES
Understanding host-microbiota interactions
Thursday 9 November 2023 from 9.30am to 4.30pm
Marc Ridet room at INRAE Auzeville
The concept of the "holobiont" is now being used in studies involving all the kingdoms of living organisms, and invites us to rethink the notion of the organism.
Following the example of discoveries about the intestinal microbiota, plants and animals appear as communities of organisms in symbiosis. Understanding the dynamics of interactions within a holobiont requires us to identify the organisms that make it up, the signals they exchange, the conditions of their homeostasis, the evolutionary strategies that guide them, etc.
The aim of this scientific day is to present the concept of holobionts in different animal and plant organisms and the methods used to study them, in particular through meta-omics approaches.
A round table will focus on data analysis in this field of study.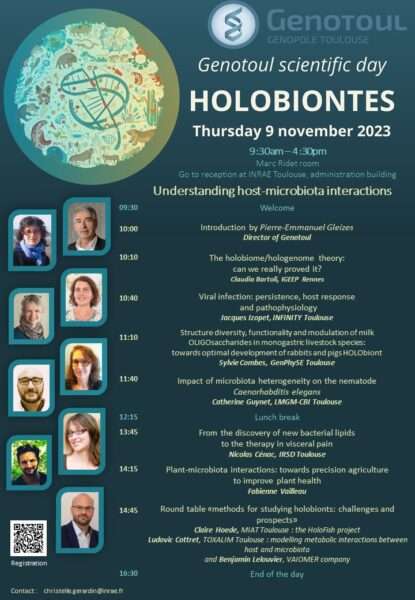 Speakers:
Claudia Bartoli

, Institute of Plant Genetics and Protection (IGEPP), Rennes
Nicolas Cénac, Digestive Health Research Institute (IRSD),Toulouse
Sylvie Combes, Genetics, Physiology and Breeding Systems Unit (GenPhySE),Toulouse
Catherine Guynet,

Molecular Microbiology and Genetics Laboratory (

LMGM),Toulouse
Jacques Izopet, Toulouse Institute of Infectious and Inflammatory Diseases (INFINITY),Toulouse
Fabienne Vailleau, Plant Microbe Environment Interactions Laboratory (LIPME), Toulouse
Round table:
Ludovic Cottret, TOXALIM unit, food toxicology, human nutrition & animal health, Toulouse
Claire Hoede,Toulouse Applied Mathematics and Informatics Unit (MIAT) 

Genotoul Bioinfo platform

,

Toulouse

Benjamin Lelouvier, Vaiomer Company,Toulouse
PROGRAMME
09:30 Welcome
10:00 Introduction by, Pierre-Emmanuel Gleizes
10:10 Claudia Bartoli, "The holobiome/hologenome theory: can we really proved it?"
10:40 Jacques Izopet, "Viral infection: persistence, host response and pathophysiology"
11:10 Sylvie Combes, "Structure diversity, functionality and modulation of milk OLIGOsaccharides in monogastric livestock species: towards optimal development of rabbits and pigs HOLObiont"
11:40 Catherine Guynet, "Impact of microbiota heterogeneity on the nematode Caenorhabditis elegans"
12:15 – 13:45   lunch break
13:45 Nicolas Cénac, "From the discovery of new bacterial lipids to the therapy in visceral pain"
14:15 Fabienne Vailleau "Plant-microbiota interactions: towards precision agriculture to improve plant health"
14:45 Round table
16:00 Closing
Thank you to the members of the organising committee: Florian Bellvert, Xavier Collet, Christine Gaspin, Pierre-Emmanuel Gleizes, Christophe Roux et Matthias Zytnicki.
✅ free registration with possibility of lunch on site until 8/11/23 10h00 am at the latest